Battery Operated Toys
---
---
THE FOLLOWING ITEMS ARE FOR SALE
PLEASE E-MAIL ANY QUESTIONS

FOLLOW INSTRUCTIONS AT BOTTOM OF THIS PAGE
WE HAVE ONLY 1 OF EACH ITEM
Click on any photo to enlarge

X-5 Spaceship Like New in Box TM Japan Tin & Plastic works well $150.

X05 Spaceship C-9 TM Japan Tin & Plastic works well $100.
Accordian Playing Hobo with Baby Monkey playing CymbalsC-8 works well $225.

Brave Eagle TN Japan 1960s (replaced drum head) may still work (as is with box) otherwise C-8+ $85.
F-14 A Navy Jet Fighter TN Japan 1970s Works well 13" long no box C-8+ $235.

Cragstan Electronic Periscope Firing Range Japan 1950-60s (may work as is) 12" tall $125.
Lunar Adventure 2, with Box C-8 works well $40.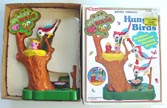 Battery Operated
Hungry Birds 1986 Redbox Toys
11" Tall. never removed from box
Realistic Action
BK604
$19.50

ORDERING INSTRUCTIONS......
BUY RIGHT NOW WITH A CREDIT CARD. USE OUR AUTOMATED
SECURE SHOPPING CART & CHECK OUT.
JUST CLICK ON ADD TO CART TO BUY.
WE HAVE ONLY 1 OF EACH ITEM
OUR INVENTORY IS UPDATED DAILY
ORDERS OUTSIDE USA ARE SUBJECT TO HIGHER SHIPPING CHARGES.

MAIL ORDERS MUST BE PAID WITHIN 10 DAYS,
PLEASE EMAIL FOR SHIPPING RATES WITH YOUR ADDRESS
WE ACCEPT CHECKS OR MONEY ORDERS OR CREDIT CARDS VIA PAY PAL
MONEY ORDERS SHIP PROMPTLY, CHECKS
HAVE TO CLEAR FOR EIGHT BUSINESS DAYS BEFORE
MERCHANDISE IS SENT